In Loving Memory of
Serena Beeton (msbee122)
January 22, 1978 - April 6, 2003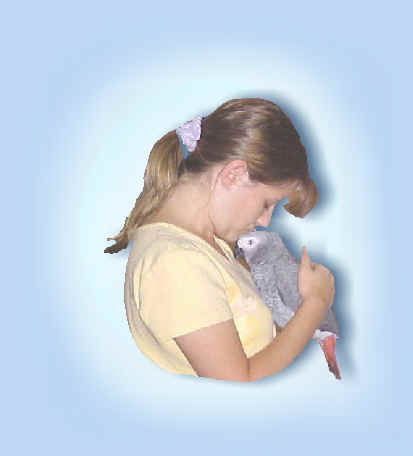 You are dearly missed by all of us at The Parrot Perch,
but you will live on as part of our hearts forever!
SERENA
I will not think of you as gone my dearest, kindest friend
Although my heart is breaking and my tears cannot be quenched
I will choose to see you walking as you enter in the gate
And coming down the street of gold and just around the bend
I saw you lift your smiling face and knew whom you would meet
Walking proud and strong toward you and glowing in angelic light
Was your beloved Willow and he flew straight upon your hand
And I knew that you had been waiting for just this chance to greet
For I know your heart never ceased to ache for Willowís tender face
Your smile as I watched was truly angelic as Willow you held to your breast
So young, I cry, so young to leave, and yet there must be a reason
They say that the good die young and I know that you have a place
In the glories that we can only imagine waiting just on the Other Side
Eternity is just as a minute for you now and I know that you soon will find
All our fids who have gone before and you will greet each one with a kiss
And you will tell each one how much they are missed and that still they abide
In the hearts of their mommies and daddies who still grieve and miss them so
What better choice could God have made than appoint you His saint of the birds
To give them love and kisses for us and let them know how much they are loved
And one day we shall all meet again when God tells us it is our time to go
You will never be forgotten, my dearest friend, here in my heart you will stay
Your tender heart and your gentle spirit will never be replaced here on earth
I am asking our Father to care for your flock until youíre all together again
One day I will meet you as I walk down that street and then I will be able to sayÖ.
You are so loved, Serena.
In Memory of our dearest friend, until we are together again.
Juanita © 2003
May not be reproduced without permission from the author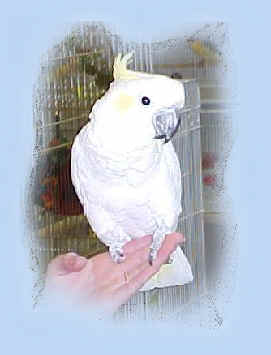 Scooter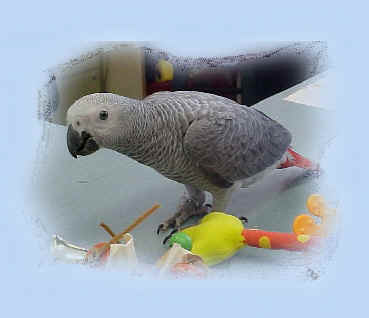 Toby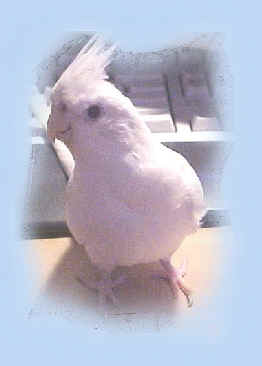 Casper
A SONG IN HEAVEN
I see you lovely, Serena, your golden hair is hanging down
Clothed in radiance beyond my words in your new white gown Walking upon a crystal sea and flying beside you a beautiful dove
His face is glowing as he looks at you, and oh, itís filled with such love

You look around and greet old friends and they begin to rejoice
With outstretched hands they welcome you with one sweet heavenly voice

Coming out of the crowd with outstretched arms is a beloved face
Your grandmotherís kisses reign down upon you and welcome you to this place

It seemed that you knew everyone there and they knew all about you
They know of the love you gave while on earth and all you tried to do

Your heart full of love and care is well known and angels are singing a song
Itís all about the work you did for Godís helpless and how you fought to right each wrong

They sang the song of how you buried dear Willow and prayed you would meet him one day
They told of how you worked so hard and made his stone and what it had to say

Then Willow flew in the midst of the crowd and his wings spread wide and bright
He came to his Mommy and tenderly gave her a kiss, oh what a wonderful sight

Then suddenly millions of birds circled round and their wings sounded like thunder
I was so overcome as I watched this take place, I felt as though I were cast asunder

Yet I couldnít look away I had to keep watching, I had to know you were well
Then suddenly all the heavenly host ceased talking, and upon their knees they fell

I heard the sound of voice coming forth the kindest my heart ever heard
Then He walked up to my dearest Serena and this was what I heard

There is so much grief for you my child down on the earth below
They canít understand that you are not dead and how shall we let them know

That you are in glory, the palace of God, and I never take my children until
They fulfill the purpose I have given them and your love you did so lovingly instill

Then He said I know just the way they shall see and He smiled as He whispered these words
I will send your love to each of them in the faces of their own little birds.

And Serena smiled and kissed Willowís head.

This is the way I shall love and honor Serena,
each time I look into the faces of my own little ones,
my heart and spirit shall touch hers.


Juanita © 2003
May not be reproduced without permission from the author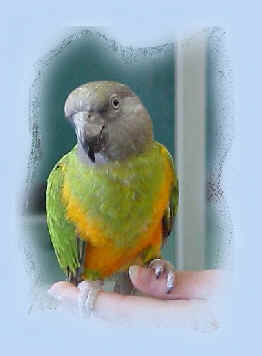 Cody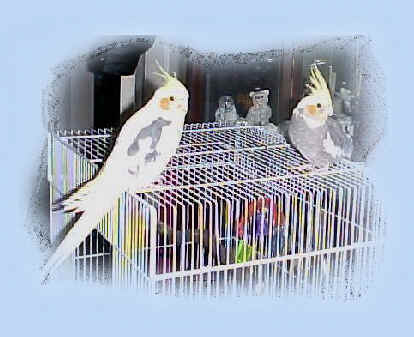 Halo & Tigger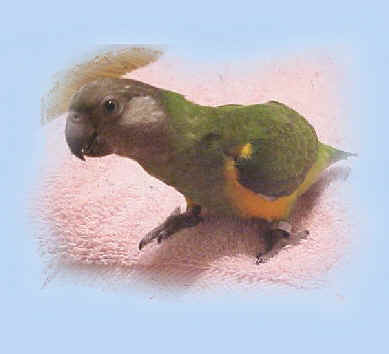 Gizmo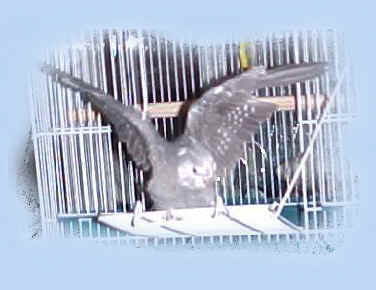 Shadow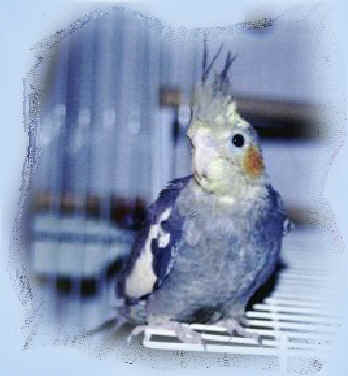 Sugar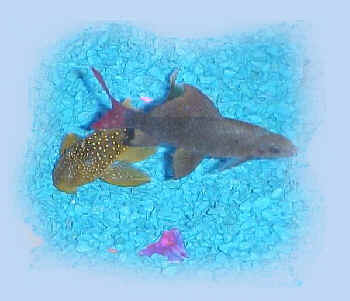 Pleco & Red Tailed Shark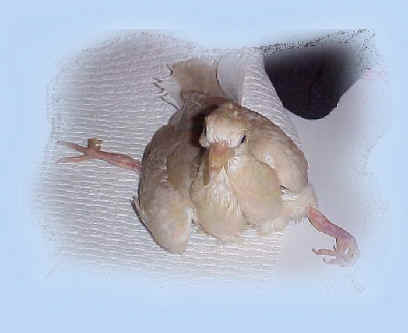 You and your precious Willow are together again
Words to Music playing:
(if you cannot hear music click here
As I Lay Me Down
by Sophie B. Hawkins
It felt like spring time on this February morning
In the courtyard birds were singing your praise
I'm still recalling things you said to make me feel alright
I carried them with me today
Now

As I lay me down to sleep
This I pray
That you will hold me dear
Though I'm far away
I'll whisper your name
Into the sky
And I will wake up happy

I wonder why I feel so high
Though I am not above the sorrow
Heavy hearted
Till you call my name
And it sounds like church bells
Or the whistle of a train
On a summer evening
I'll run to meet you
Barefoot barely breathing

As I lay me down to sleep
This I pray
That you will hold me dear
Though I'm far away
I'll whisper your name into the sky
And I will wake up happy

It's not too near for me
Like a flower I need the rain
Though it's not clear to me
Every season has its change
And I will see you
When the sun comes out again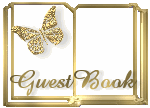 Our Other Memorial Pages:

Serena's Garden of Clay Creations - Page 2

Special Memories - a Tribute to Serena's Life - Page 3

Christmas Tribute to Serena and Eric - Page 4

One Year Anniversary Tribute to Serena Beeton & Eric Lashbaugh - Page 5

From the Heart: Joann's Poems to Eric and Serena (poetry by Eric's mother) - Page 6

The Beginning of a Wonderful Friendship by Serena Beeton - Page 7

Remembering Serena and Eric - Page 8
Links to Other Memorial Sites for Serena:

Loving Condolences in the Loss of Serena

Serena (in French)

Guestbook - Potomac News Online
Serena's favorite rescue:
Special thank you to Juanita for sharing her beautiful poetry with us!
Return to: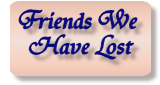 Return to: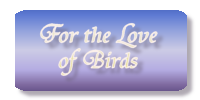 Page Created 4/8/03 by Ellen in Maine
© 2001-2011 For the Love of Birds
http://loveofbirds.com/memorial/serena/serenab.htm