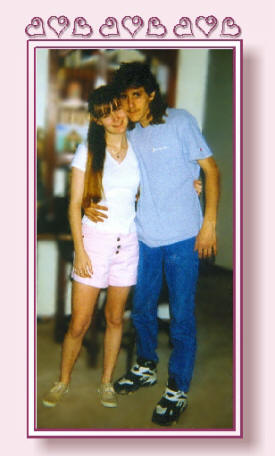 A WHISPER
Heard your whisper late last night
Heard your voice in the twilight
Felt your touch, oh so light
On my shoulder in the night
Gently your voice said
Mom, donít you cry because weíre dead.
Serena and I just went to visit our Lord.
After our car accident, living wasn't in the cards
Donít be lonely or depressed
I know we are greatly missed
But in such a short tiny while
You too will walk that lonely mile
Iíll be here waiting for you
And for dad, when itís his turn to
But for now a whisper is all I can do
To tell you both, weíre still here and we love you.
Joann Lashbaugh © 2004

THE QUIET EARLY MORN
In the quiet early morn when I canít rest or sleep
I count your past accomplishments instead of counting sheep
You both were here on earth for such a tiny while
God, you both made us so happy and always made us smile

We, your family, were waiting for the day
Never dreaming you both would go away
We were all anticipating you both walking down the wedding isle
Then she at 25 and you at 28, both walked that last mile

You, my son didn't leave alone; your angel, she left to
She crossed over the rainbow bridge first and then came back for you
Iím sure you walked hand in hand up those golden stairs
Climbing into Godís kingdom and I know you both were welcomed there

How blessed we all were here, knowing both of you
Sharing in your lives was the happiness we knew
Itís been a year now and I still canít come to grips
I visit your grave often and put flowers and wreaths high upon sticks

I had graphics put in the window of your Ď91 mustang just this year
Because my son, I can feel you both, when I am driving, oh so very near.
The message in the window says youíre both with me
And it reads " cruzing in memory" for all the world to see

I now feel your presences as I go cruising by
And your message also tells the world
The dates you both were born and the days you died
So, as I sit and contemplate in the early morn
I talk with you and Serena and the world knows why I mourn.
Joann Lashbaugh © 2004

I REMEMBER
I remember that morning (April-6-2003) and I wonder why
I look at your pictures and I still cry
So many questions, no answers do I get
Every time I remember, my eyes get all wet
Such a tragic accident to take two young lives
A new red cobra mustang, in it went two sacrifices
You both valued that car and you both were so proud
When you drove it home, never dreaming in a short while

It would take you both on a trip that neither would return
Oh my two darlings, what a lesson we learned
No material item on God's good earth
Is worth a young life that parents share since birth
Your kindness, your touch, that shy little grin Your both gone forever, it seems such a sin
Your trip has taken you both to Him, Our God and Savior, and on earth we'll never see you again
I miss and love both of you
and am not sure just what to do
But I'm no longer afraid of dying;
because then I'll again see both of you
Joann Lashbaugh © 2004

ERIC AND SERENA IN HEAVEN
I remember that morning (April 6, 2003) and I wonder why
I look at your pictures and I still cry
So many questions, no answers do I get
Every time I remember, my eyes get all wet
Such a tragic accident to take two young lives
A new red cobra mustang, in it went two sacrifices

You both valued that car and you both were so proud
When you drove it home, never dreaming in a short while
It would take you both on a trip that neither would return
Oh my two darlings, what a lesson we learned
No material item on Godís good earth
Is worth a young life that parents share since birth

Your kindness, your touch, that shy little grin
Your both gone forever, it seems such a sin
Your trip has taken you both to Him
Our God and Savior, and on earth weíll never see you again
I miss and love both of you and am not sure just what to do
But Iím no longer afraid of dying, because then Iíll again see both of you.
Joann Lashbaugh© 2004

ITíS BEEN ALMOST A YEAR
Itís been almost a year since you both went away
Heaven opened its doors that clear Sunday
Deciding with God, you and Serena would remain
He took you both home leaving me half insane

I couldnít figure out how I would live without you two.
But I knew you couldnít leave her and would do what you had to do
She held your heart in her tiny hands
She had done that from the day you started becoming a man

Angels from high couldnít stop fateís door
From opening and letting you both from life be lured
I look around me and have others hear me say,
Why, dear God, couldnít they have lived and on earth here have stayed

Our heart is not to question him
But trust and believe till someday we meet again
Heaven could not leave them there on the road to die
Or suffer and hurt while inside they cry

So to keep them from feeling all earthly pain
He mercifully took them to heaven to be under His reign
They werenít heroes, just two people in love
God knew of their gentleness He saw from above

The tenderness to others and for His creatures they cared
So in Godís wise wisdom he called them with Him up there
My heart is so broken, I cry and I weep
I loved them so much, hearing their names makes my heart skip a beat

Someday maybe if God will permit
Iíll see them again and then my heart again will be lit
The pain will be gone for the loss of these two
My Eric and sweet Serena, how I love and miss you

Angels from heaven looked down from above
At these two kids so much in love
They both died together in a matter of hours
Their love was so deep, it flourished like flowers

They came to visit not here permanently to stay
Heaven only loaned them for a few years and a day
They will forever keep watch over us
Knowing we know their safe with the God that we trust.
Joann Lashbaugh © 2004
Our Other Memorial Pages:

In Loving Memory of Serena Beeton (msbee122) - Page 1

Serena's Garden of Clay Creations - Page 2

Special Memories - a Tribute to Serena's Life - Page 3

Christmas Tribute to Serena and Eric - Page 4

One Year Anniversary Tribute to Serena Beeton & Eric Lashbaugh - Page 5

The Beginning of a Wonderful Friendship by Serena Beeton - Page 7

Remembering Serena and Eric - Page 8
Links to Other Memorial Sites for Serena:

Loving Condolences in the Loss of Serena

Serena (in French)

Guestbook - Potomac News Online
Serena's favorite rescue:
All poems were written by Joann Lashbaugh, Eric's mother,
and may not be reproduced without permission.
Thank you Joann for sharing your photos of Eric and Serena with us!
Thank you Juanita for all you did to help make this page possible!
Return to: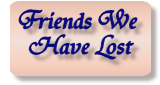 Return to: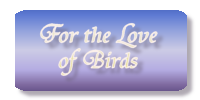 Page Created 4/1/04 by Ellen in Maine
© 2001-2011 For the Love of Birds

http://loveofbirds.com/memorial/serena/joannpoem.htm