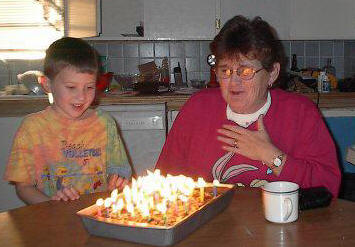 QUIETLY SHE WALKED AWAY
Surrounded by those of her blood
Bound together in this life by love
And as she walked away she took
Their love, woven over many years
Tightly knit together by tears and laughter
Entwined by a common faith of hope
Knowing that this parting was not permanent
Sure of the threads which linked them together
Her life, which gave so much to so many
Witnessed by a loving spirit spreading joy
Has merely walked ahead and will be waiting
There, by the gate, as she had taught each of them
With her loving, welcome smile, and arms outsretched
Leading them, one-by-one, into the family circle once more
Never again to part, for Gerri is home, at last.
In memory of a loving and gentle spirit who touched our
hearts and brightened our days. Until we meet again.
Juanita – February 29, 2004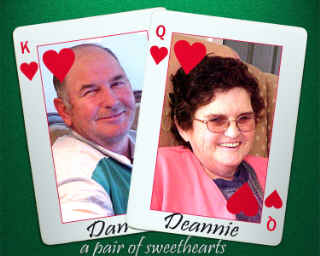 Fill Not Your Hearts....

Fill not your hearts with pain and sorrow, remember me in every tomorrow.

Remember the joy, the laughter, the smiles, I've only gone to rest a while.

Although my leaving caused pain and grief, my going has eased the hurt, and blessed relief.

So dry your eyes, remember me, not as I am now, but what used to be.

Because I will remember you all, and look on with a smile.
Understand, in your hearts, it's only a while

As long as I have the love of you, I can live my life in your hearts too.
Lyn & Suzanne (NCS - Talk about Tiels)
Click here to read "Last Supper" by
Gerri's brother-in-law, Roy Cogswell: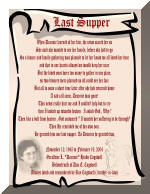 WEARY WINGS
Weary Wings,now find your rest...Take your place among the best....
Gently glide towards the skies, ever mindful how you rise....
Follow the stars, ride upon a breeze.....
Soar with an Eagle, fly as you please....
Find your peace, seek out your place....
Safely rest in God's own Grace.
We Will miss you Gerri...
From Your friends...Suzanne and Lyn
TAT...
Feb.29th,2004
Her very much loved Cockatiels -
Spanky, Peaches and Darla: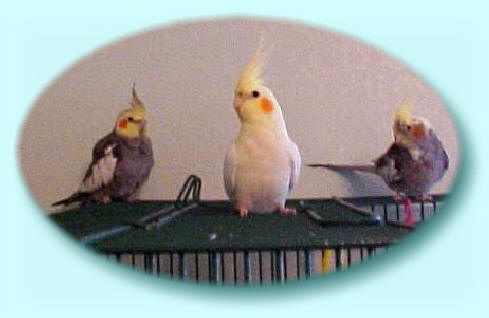 For Gerri's children.......
HER LINGERING PRESENCE

I knew that one day she would have to leave
Taking with her all my security in belonging
Breaking our bond that was formed inside
Leaving me only memories upon which to cleave
Days of happy smiles and nights of peaceful sleep
Memories of wondrous meals and smells that filled the house
Reassurance when doubts and insecurity came my way
She was always there with comfort and to keep
My life on track when I would have gone astray
Leading with a velvet glove and letting me grow
Into myself and yet I felt her guiding hand
However far I might travel she would always stay
In our home where her presence was our solid rock
A foundation stone for all our lives upon which to rest
Unnoticed the years slipped by and then one day we knew
She would leave us soon, her days ticking by as hands upon a clock
She is gone now and the home became a house and deathly still
Yet as I walk about those rooms she filled with abundant love
I feel her presence abiding still within its' walls and floors
Her spirit clings to all her favorite things just waiting until........
We join our mother around the family table once again.
Juanita
Birthday Card from The Parrot Perch Message on her last birthday.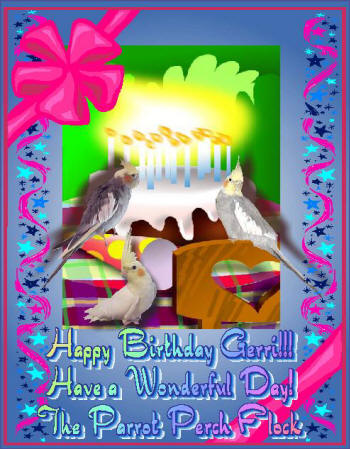 Gerri was known to her family as Deanie.
However, online, we knew her as a "ggmaw" and Gerri.
Goodbye dear friend!!!

Please see Next Page:
Special Tributes to Geraldine Cogswell

If Guestbook is not available - try alternative copy

Midi playing:
Fly
Celine Dion

Fly, fly little wing
Fly beyond imagining
The softest cloud, the whitest dove
Upon the wind of heaven's love
Past the planets and the stars
Leave this lonely world of ours
Escape the sorrow and the pain
And fly again

Fly, fly precious one
Your endless journey has begun
Take your gentle happiness
Far too beautiful for this
Cross over to the other shore
There is peace forever more
But hold this memory bittersweet
Until we meet

Fly, fly do not fear
Don't waste a breath, don't shed a tear
Your heart is pure, your soul is free
Be on your way, don't wait for me
Above the universe you'll climb
On beyond the hands of time
The moon will rise, the sun will set
But I won't forget

Fly, fly little wing
Fly where only angels sing
Fly away, the time is right
Do now, find the light
Return to: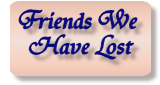 Return to: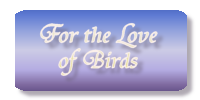 Page Created 3/30/04 by Ellen in Maine
© 2001-2011 For the Love of Birds
Angel tile graphic from:
http://www.sunsetangel.com/
http://loveofbirds.com/memorial/gerri/gerri.htm