On May 12, 2003 - Here is Mom, Annika with two babies and the last egg. The egg had been pipping for quite awhile and had a small hole in it. The hole is facing down in the nestbox.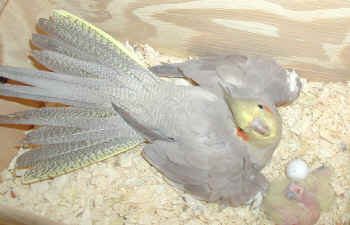 In the shell - but was going no further. Using a clean, warm, damp washcloth, I moistened the egg and chick. It was pretty clear the membrane had dried out and was stuck to the baby preventing it from hatching, so I gently moved it away.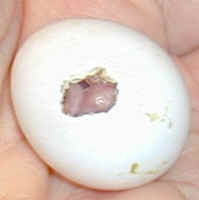 Coming out of shell after I started assisting. Continuing to moisten shell and chick. Once it was given the ability to move, it was pushing out of the shell quickly. I quickly checked to be sure the yolk sack was absorbed - which it was.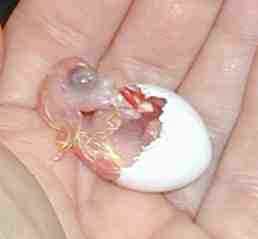 It had pooped in the shell - not good. I was lucky I intervened when I did, instead of heading to sleep and letting nature take it's course.
Cleaned up and back in nest with two older sibs. The shell has to go back making it more likely the parents will accept it.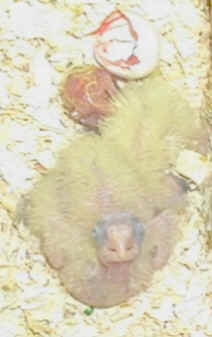 Back with mom and sibs. New baby under mom's wing. Annika immediately accept her chick. Shadow Wing was in the nest box a short time later and also accepted the baby.

The Next Day (5/13/03) The youngest baby is on the left.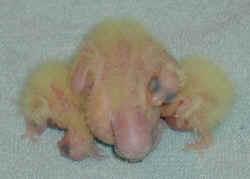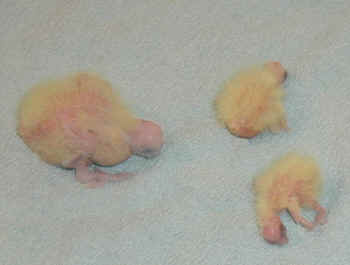 Proud Daddy Shadow Wing - sitting in cage out of nest box. Face is bit messy from eating soft foods before feeding babies.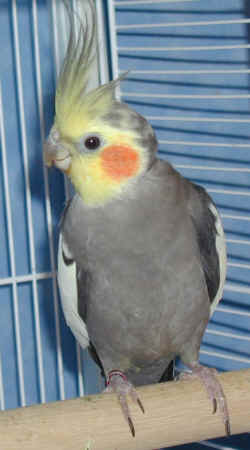 Shadow Wing is the son of Leo (Lutino-Pied) and Kiara (White Face Cinnamon Pearl split to pied). That makes him a Normal Gray split to Pied, Pearl, Cinnamon, Lutino and White Face. Amazing what genetic material lurks behind that sweet yellow face.
On May 11, 2003 - One day after the second one was assist hatched. Lack of humidity has been a problem for us as hatching approached. The baby between these two died in shell as a result. This baby was not as vigorous as I would have liked during this hatch. A little warm pedialyte helped rehydrate it. The first one hatched on it's own on May 7th.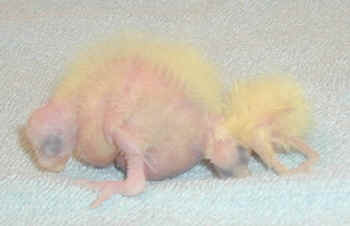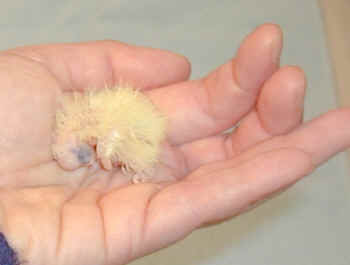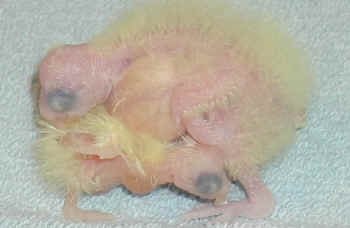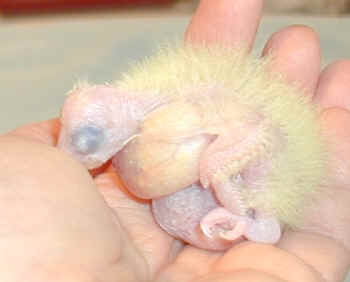 Babies on May 16, 2003
The one that was not vigorous (middle baby) took off and ran in these photos. It's a spunky little thing! I have no worries about this little one now. Unfortunately these are not the best photos. My 12-year-old photographer was at school and I had to quickly photograph them before Spunky trotted off the table.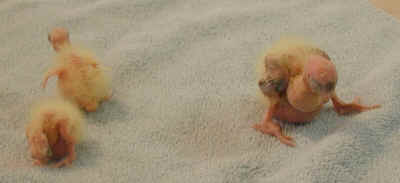 Notice the oldest chick is showing signs of the beginning of feathering. And once again - the middle chick is trotting off.

Here are the chickies on May 19, 2003
Finally got them to stay still for a photo - they still keep running off. Can't wait to see what happens when they start flying - LOL. The oldest already shows the sweetest and most gentle disposition. Very nurturing and loving towards the younger two. S/he can often be found with a younger one under a wing.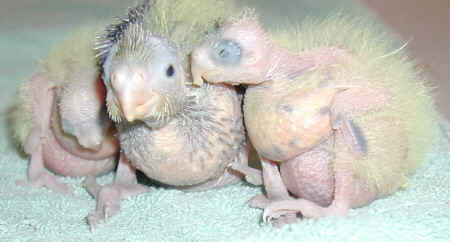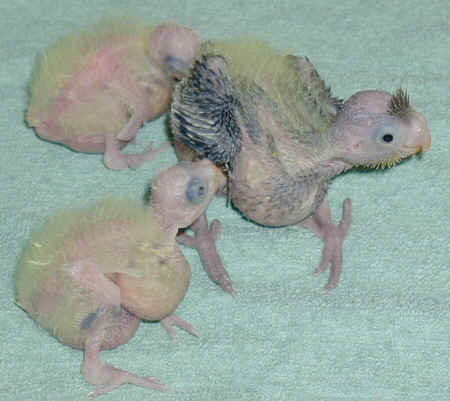 On May 23, 2003 - Mom and Dad are still feeding these three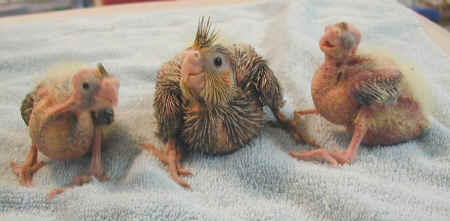 On May 31, 2003 - They are being handfed. The oldest is a cinnamon (middle), the second oldest is a gray split to pied (on left) and the youngest is a cinnamon pearl (on right and below). They continue to take off and run - very active babies.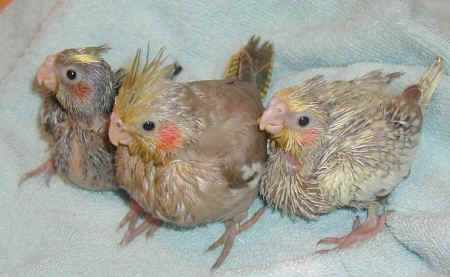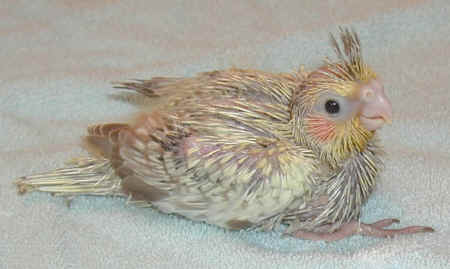 Disclaimer: this is not meant to instruct anyone on how to assist hatch cockatiel chicks or to encourage anyone to try. There are very good reasons to assist and very good reasons not to. And there are many ways this can go badly without proper knowledge or experience.
I just wanted to share my experience with others and this is merely a group of photos to record this experience.
For More on Assist Hatching see:
Assist Hatches by Susanne Russo of JustCockatiels.com
Return to:
Page created 5/13/03
Updated 6/4/03
Please Help Animals Needing Rescue & Shelter in Disasters
by Volunteering and/or Donating to Noah's Wish
AFA Disaster Relief Fund - Hurricane Katrina
The American Federation of Aviculture, Inc. (AFA) has established a Disaster Relief Program to assist aviculturists who have been affected by natural events such as hurricanes, wild fires, earthquakes, etc. Disaster relief is available to provide immediate
and short term assistance to aviculturists and their birds.
Web design by Ellen at loveofbirds.com
Copyright © 2001 - 2006 Loveofbirds.com
All photos were taken by Ellen of her own birds and are property of Ellen at loveofbirds.com, unless otherwise specified. They may not be used or reproduced without permission. None of the contents of these pages may be reproduced or copied without permission. If you wish to use anything, please email me to seek permission.
http://loveofbirds.com/photoinfo/A&Sbabies1.htm