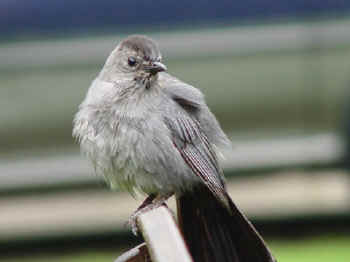 On the day the babies fledged, MamaCat got very defensive. "Don't you dare touch my Babies!"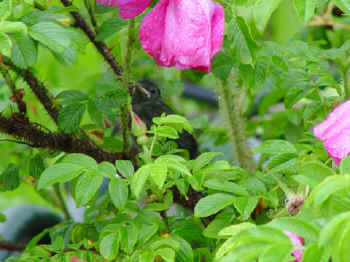 And here I found them. Baby in the Rose Bush.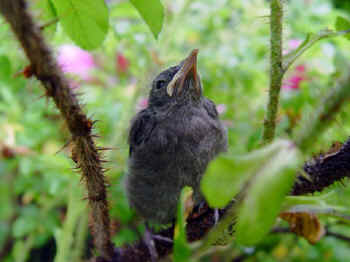 Ouch those thorns!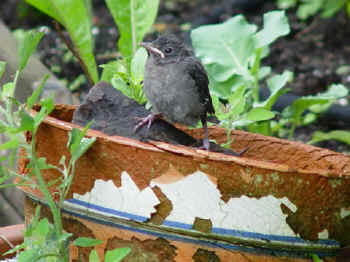 Baby Punkie Hair was found in a flower pot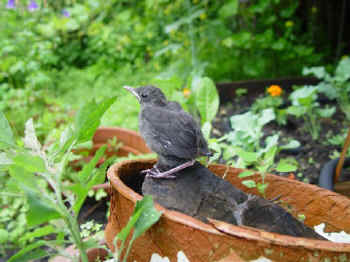 Baby in the Flower Pot, hopping away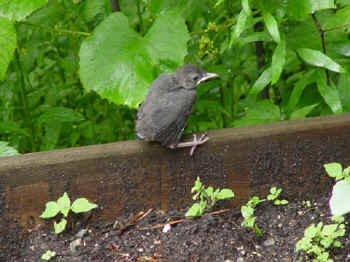 This baby was found in the Broccoli Bed.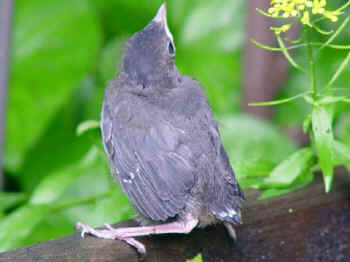 All legs, no tail
MamaCat: Who wants that Photographer to go away? I do!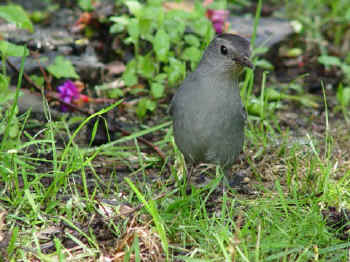 Mr. Catbird: Thanks for Visiting my Family
The babies are still in the yard. The parents have moved them towards the back overgrown area. I can hear them peeping for food, and then they sound like tiny jingle bells while being fed. If I go towards the back of the yard, the Catbirds come and scold and, believe it or not, Bark at me! When MamaCat becomes distressed, she will mew for her mate. I did spot one of the babies recently flying pretty well with about an inch of tail. He was flapping after Mr. Catbird, begging to be fed of course!

Thank you Skybird for sharing your fun photos of the Catbird family nesting and fledging with us!
Photo Essay Created by Skybird
Page Created 6/22/03
Updated 11/24/04
Photos were taken by Skybird of her wild birds and are property of Skybird. They may not be used or reproduced without permission.


Return to:
Pet Bird 2002-3 Menu
Pet Bird 2004 Menu
Wild Bird Menu
Honorary Parrot-Dog Menu
Return to: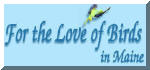 Fun Photo Essays Copyright ©2001 - 2005 Loveofbirds.com
Web design by Ellen at loveofbirds.com
All contents of Fun Photo Essays are property of Loveofbirds.com.
Each Fun Photo Essay is individually copyrighted by author.
Photos on Fun Photo Essay border and Logo were taken by Ellen of her own birds and are property of Ellen at loveofbirds.com.
None of the contents of these pages may be used, reproduced or copied without my permission. If you wish to use anything, please email to seek permission.
New URL and Reset - 11/24/04
http://loveofbirds.com/photoessay/catbird3.htm