Fun Photo Essays presents:
One, Two...?
By Skybird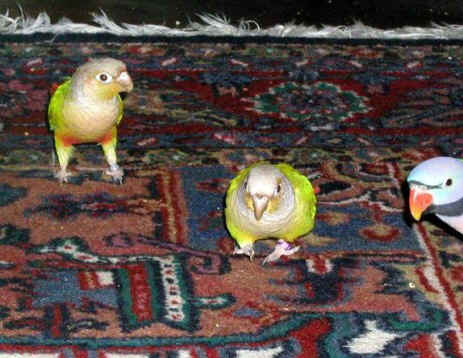 Kayla: Am I seeing straight???!!
Cookie: Outta the way, Big Guy. Small Stuff coming through! C'mon, Yuki!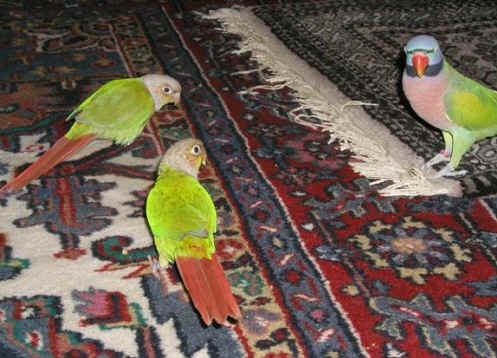 Cookie: Now you see that guy over there? He's big, but a real whuss. Don't worry about him!
Kayla: **blink blink** I think I'm seeing DOUBLE!!!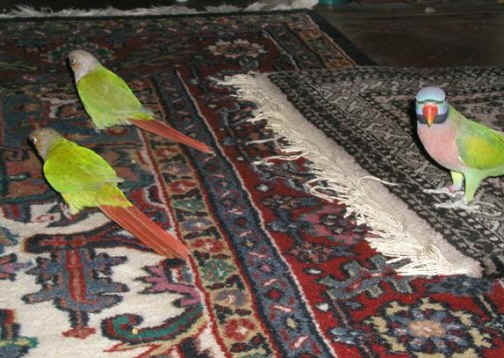 Cookie: Now over there - that's where the cages are. You can't see her, but Ami's hangin' by the window. You'll meet her later.
Kayla: ummmm... uhhhh... umm....umumum...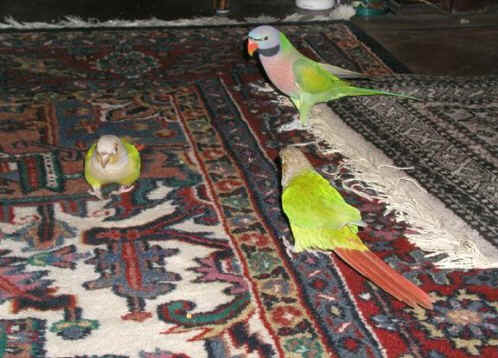 Cookie: Now if you come on back this way.... Hey, Small Stuff, just ignore the big guy!
Kayla: Okay - I'll count again. One.... and One???!!!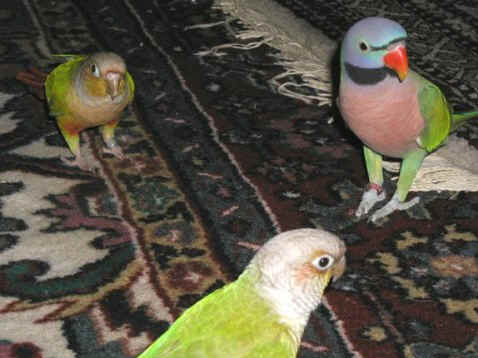 Cookie: C'mon, Yuki. He won't hurt you. Look at him - he's trying to count and hasn't even reached TWO yet!
Kayla: TWO??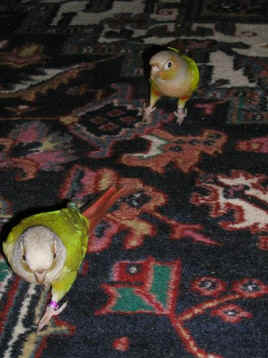 Cookie: Okay - this way. Follow me....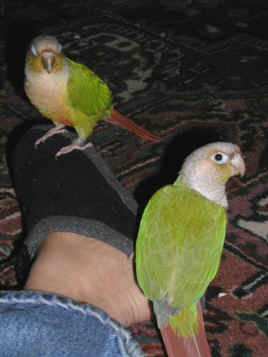 Cookie: Ya see - when you're on the floor, just look for Ma's foot and climb on board. Huh? Ma?? Ooooo-kay.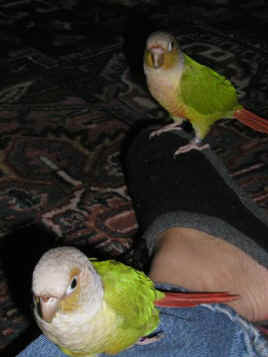 Cookie: Small Stuff!! Ma wants us to keep on moving up. C'mon!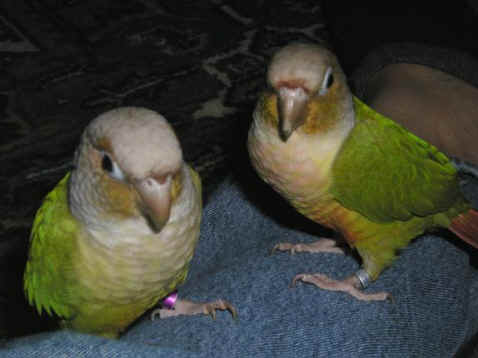 Cookie: Ya satisfied, Ma?? I was good - wasn't I?? And this Yuki is real good at taking orders!! I'll show him ALL the ropes in NO TIME!!
Thank you Skybird for sharing your Parrot Humor and Fun Photos of your Green Cheek Conures, Cookie and Yuki, and Moustache Parakeet, Kayla, with us!!
Photo Essay Created by Skybird 1/6/2004
Page Created 1/8/04
Updated 11/24/04
All photos were taken by Skybird of her own birds and are property of Skybird. They may not be used or reproduced without permission.


Return to:
Pet Bird 2002-3 Menu
Pet Bird 2004 Menu
Wild Bird Menu
Honorary Parrot-Dog Menu
Return to: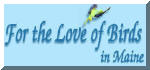 Fun Photo Essays Copyright ©2001 - 2005 Loveofbirds.com
Web design by Ellen at loveofbirds.com
All contents of Fun Photo Essays are property of Loveofbirds.com.
Each Fun Photo Essay is individually copyrighted by author.
Photos on Fun Photo Essay border and Logo were taken by Ellen of her own birds and are property of Ellen at loveofbirds.com.
None of the contents of these pages may be used, reproduced or copied without my permission. If you wish to use anything, please email to seek permission.
New URL and Reset - 11/24/04
http://loveofbirds.com/photoessay/Two.htm